Region and Infrastructure
Metanor's Bachelor Gold Mill is the only mill within 200km in a gold-rich district.
| | |
| --- | --- |
| The Bachelor Gold Mill complex is the only one within a 100 km radius from Desmaraisville and the possibility exists to either custom mill ore from numerous surrounding gold deposits or acquire additional gold deposits. To the right is a sampling of known smaller gold deposits that warrant attention: | |
Mining-friendly province: Quebec is unanimously agreed in the mining community to be a stable, mining friendly region and is ranked as a top-tier jurisdiction by the Fraser Institute. Metanor benefits from low hydro-electric costs, is not affected by oil prices, and it has a stable workforce.
1) Bachelor Mine & Mill, Quebec, Canada
100% Owned • Targeting steady-state 4,000+ oz per month run rate at 800 Tonnes Per Day (TPD)
Figure 4. Images captured at Metanor's refurbished Bachelor Gold Mill and Mine (clockwise; the mill, drill result sample assays, two happy visiting shareholders holding two gold bars, ball room, & drilling high-grade ore (centre image)); Metanor originally acquired 100% interest in the Bachelor mine and mill property in 2006 with a plan to refurbish the mill and infrastructure to restart mining (initially MTO used interim mill feed from a remote deposit, pouring ~45,000 oz gold in the process). Bachelor Gold Mine is a past producer from the 1980s having produced 130,341 oz gold in the few years before closing in 1989. The 1989 closing was due to low commodity prices and a less than stellar mining plan that did not follow the mineralized zones closely enough. Now refurbished, redeveloped, and reopened under expert geological supervision, Metanor is processing high-grade underground ore sourced from the ground below the mill again. Metanor's infrastructure is valued (estimated replacement value) at ~CDN$200M, several times greater than its current market cap.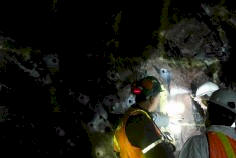 Figure 5. Drifting at Bachelor -- following the higher-grade zones at Bachelor Mine; Bachelor has grades upwards of 26 g/t gold with an average grade of 7.38 g/t gold (fully diluted using long hole)
The resource at Bachelor
The last resource estimate at Bachelor was from 2005, with ~300,000 oz Au in all categories. Metanor has since been mining from this resource, in-part, and we estimate it has ~half the established resource still to be mined, and more importantly it has conducted drilling to also mine from new material and replace/grow the mine-life -- there is no shortage of gold to keep on producing at Bachelor. Metanor has not performed a 43-101 incorporating significant drilling since opening and therefore can not show a revised resource yet -- the completion of a resource calculation is a possibility near-term. It is not uncommon for mines in the Abitibi region to simply keep drilling as they follow the vein, and progressively add life (e.g. Richmont's Beaufor has operated for 25 years with often only ~1 year mine-life, and is still operational). MTO.V has already identified zones at Bachelor that we believe will eventually contribute to extending mine life above 10 years.
The original 2005 Underground Mineral Resource
Bachelor

Hewfran

Total

Measured

Tonnes

177,898

14,696

192,594

Grade (g/t)

8.83

8.50

8.80

Oz of gold

50,487

4,018

54,504

Indicated

Tonnes

465,928

183,069

648,997

Grade (g/t)

7.63

7.14

7.49

Oz of gold

114,329

42,024

156,352

Total Measured + Indicated

Tonnes

643,826

197,765

841,591

Grade (g/t)

7.96

7.24

7.79

Oz of gold

164,815

46,042

210,857

Inferred

Tonnes

207,517

218,630

426,148

Grade (g/t)

6.76

6.30

6.52

Oz of gold

45,083

44,283

89,366
The original 2005 Underground Mineral Reserves
Bachelor

Hewfran

Total

Proven

Tonnes

178,359

14,734

193,093

Grade (g/t)

8.36

8.05

8.33

Oz of gold

47,930

3,814

51,743

Probable

Tonnes

467,135

183,543

650,679

Grade (g/t)

7.23

6.76

7.10

Oz of gold

108,538

39,895

148,433

Total Proven-Probable

Tonnes

645,494

198,278

843,772

Grade (g/t)

7.54

6.86

7.38

Oz of gold

156,467

43,710

200,177
Potential to Add Gold Ounces at Bachelor is Strong
Metanor has had recent news of continued quality high-grade intercepts at Bachelor and the adjacent Hewfran section; see related August 6, 2015 news release entitled "Metanor Intersects 10.2 g/t Over 13.1 Meters at Bachelor Mine", July 29, 2015 news "Metanor Intersects 11.9 g/t Au Over 11.85 Meters at Bachelor Mine", June 25, 2015 news "Metanor Intersects 12.8 g/t Over 10.8 Meters At Bachelor Mine", June 22, 2015 news "Metanor Intersects 22.85 g/T Over 4.04 Meters at Bachelor Mine", May 14, 2015 news "Metanor Intersects 12.24 g/T Over 4 Meters in the Hewfran Sector of the Bachelor Mine", March 30, 2015 news "Metanor Intersects 8.64 g/T Over 5.8 Meters at Bachelor Mine"). These results (and others) demonstrate, in-part, Metanor's ability to readily extend the mineable life of Bachelor, similar to how other successful area miners have operated (and several continue to this date) -- typically lining up a couple years of initial quality mineralized material but remaining operational for many decades, adding as they go.
Figure 6. (above) Bachelor Gold Property Mine Claim blocks (Bachelor & Hewfran) -- both claim blocks belong 100% to Metnaor, however historically they had different ownership and were not explored to their potential. Metanor's Bachelor mine was built alongside a pluton discovered on its property. The shaft at the Bachelor Gold Mine has been sunk to 2,400 feet so as to access known resources at that level, however it is believed the gold runs much deeper and Metanor is in a position to identify 1.5+ million ounces going forward. The two main veins at the Bachelor Lake Gold Mine run parallel and are 75 feet apart at an 80 degree angle. Greenstone belts run deep, there are mines at 8,000 – 10,000+ feet such as area miners Aur Resources (now Teck Cominco), Agnico-Eagle and Sigma. The gold grade at the Bachelor property increases at depth and the strike is open in all directions at the 2,400 foot mark. All of Metanor's recent drill results have been near existing infrastructure at Bachelor, making the high-grade material easily accessible. Metnaor is wide open at depth for big exploration potential at Bachelor; the company has deep hole intercepts at ~3,500 ft.

Recent news releases regarding accomplishments and exploration developments at Bachelor:
• September 2, 2015 "Metanor Completes the Last Payment on Ressource Quebec Loan, and Announces Management Change"
• August 20, 2015 "Metanor Intersects 7.5 g/t Over 15.2 Meters at Bachelor Mine"
• August 6, 2015 "Metanor Intersects 10.2 g/t Over 13.1 Meters at Bachelor Mine"
• July 30, 2015 "Metanor Intersects 12 g/t Over 3.25 Meters at Bachelor Mine"
• July 29, 2015 "Metanor Intersects 11.9 g/t Au Over 11.85 Meters at Bachelor Mine"
• July 17, 2015 "Metanor Produced 10,277 Ounces During Quarter Ended June 30th 2015"
• July 2, 2015 "Metanor Intersects 6.82 g/t Over 8.7 Meters at Bachelor Mine"
• June 30, 2015 "Metanor Intersects 18 g/t Over 1.5 Meters in an Unknown Sector at Bachelor Mine"
• June 25, 2015 "Metanor Intersects 12.8 g/t Over 10.8 Meters At Bachelor Mine"
• June 22, 2015 "Metanor Intersects 22.85 g/T Over 4.04 Meters at Bachelor Mine"
• June 1, 2015 "Metanor Provides Update"
• May 22, 2015 "Metanor Reports its Financial Results for the Quarter Ended March 31, 2015"
• May 14, 2015 "Metanor Intersects 12.24 g/T Over 4 Meters in the Hewfran Sector of the Bachelor Mine"
• April 13, 2015 "Metanor Produced 9,860 Ounces During Quarter Ended March 31st 2015"
• April 9, 2015 "Metanor Reports Larger Intersection With 6.14 g/t Over 15 Meters at Bachelor Mine"
• March 30, 2015 "Metanor Intersects 8.64 g/T Over 5.8 Meters at Bachelor Mine"
• March 27, 2015 "Metanor Resources Inc.: Maturity Date of Debentures Extended 24 Months"
• March 17, 2015 "Metanor Intersects 6.1 g/T Over 6.8 Meters at Bachelor Mine"
• March 12, 2015 "Metanor Resources Inc.: New Gold Corridor at Bachelor Mine"
Click here to see complete news release list
----- ----- ----- ----- ----- ----- ----- ----- -----
2) Barry Deposit & Property, Quebec, Canada - 100% Owned, located ~65km southeast of the Bachelor Lake Mine/Mill
SGS Geostat Issues NI 43-101 Resource Estimate Report Identifying Metanor's Barry Deposit as Comparable in Potential to Rival Other Major Gold Deposits Such as the Canadian Malartic (formerly Osisko) and Detour Gold's Detour Deposit

The independent international professional geological firm SGS Geostat has issued (November 2010) its NI 43-101 Technical Report Mineral Resource Estimation on Metanor Resources' Barry Deposit property detailing the sizable resource and providing new revealing commentary, comparing Metanor's Barry deposit in potential to Canadian Malartic deposit and Detour Gold's Detour deposit.

The Barry resource estimate now sits at 309,500 oz Gold of Indicated Resources (7,701,000 t at 1.25 g/t Au) and 471,950 oz gold of Inferred Resources (10,411,000 t at 1.41 g/t Au) – by all measures a technical success. However, it is the opinion expressed by SGS Geostat that speaks volume to the large inherent value of the asset and resource growth potential that should translate to a market success for shareholders of MTO.V as it is now evident the Barry gold property holds enormous potential to dwarf its Bachelor Lake mine and mill operation.

The following excerpts are from SGS Geostat's summary section found in the 43-101 Barry resource estimate technical report:

Barry Technical Report [9.4MB PDF]
"…the exploration and development work at Barry has significantly increased the amount of resources. The mineralisation is open in all directions and the property has not been drilled out to its full extent. … In the context of larger tonnage with lower grade with an onsite mill, the property has the potential to become a significant low grade high tonnage deposit similar to the Aurizon (Joanna), Osisko (Malartic) and Detour Gold (Detour) deposits. The gold is in the system, the mineralized fluids have circulated in the major shear. Additional exploration and geological work are required to increase level of knowledge of the mineralization system to better define the high grade zone behaviour in addition to development of additional resources laterally in junction to the latest geophysical survey."

"The Barry project geology has the potential to become an important gold deposit and SGS Geostat recommends the continuation of the development of the Barry project. SGS recommends continuation of exploration and development on the Property."
Source: SGS Geostat's technical report on Metanor's Barry deposit

Full copy of the 121 page 43-101 technical report is available here and is also filed on SEDAR. Mining MarketWatch Journal notes the comparable deposits mentioned by SGS Geostat that Barry appears to have the potential to rival are sizeable and growing;

| | |
| --- | --- |
| •- | As of June 15, 2014 The Canadian Malartic gold project sits at 8.94 Million Ounce Proven and Probable Gold Reserves (263.2 Mt @ 1.06 g/t Au), 10.80 Million Ounces Measured & Indicated Gold Resource (314.2 Mt @ 1.07 g/t Au), 1.14 Million Ounces Inferred Gold Resource (46.5 Mt @ 0.77 g/t Au). |
| •- | The Detour Lake mine is currently the second largest operating gold mine in Canada, with an expected gold production of 475,000 to 525,000 ounces in 2015. Gold production started in February 2013 and commercial production was declared in September 2013. Detour Lake contains an open pit mineral reserve of 15 million ounces of gold (459 Mt grading 1.01 g/t) using a cut-off grade of 0.5 g/t. |
| | |
| --- | --- |
| Figure 8. Barry deposit - open in all directions | Figure 9 & 10. Barry core and Oxidized Mineralization in the Main E-W Shear Zone. With Coarse to Fine Grained Pyrite Boxwork |
Figure 11. Barry Deposit - There are two zones at Barry going down to 400m, it is a 1 km strike zone and is open at depth.
"The gold is in the system, the mineralized fluids have circulated in the major shear" -- Those are the words SGS Geostat is using to describe Metanor's Barry project and is what investors in junior mining should be on the lookout for -- the key for a highly successful exploration company is to find a structure that carries gold and then with that the company can use it as building blocks. Now that Metanor knows it has the structure supporting gold it only has to follow it like it did with the initial 35,000 ounce deposit MTO.V originally bought from Murgor; Murgor hit a dyke and essentially stopped but MTO.V discovered the structure dipped 150m and popped back up on the other side, joining it up to the west zone. The gold system is now understood to be there and understood to be very large. SGS describes the deposit as "open in all directions and has not been drilled to the fullest extent" -- Metanor went from 35,000 ounces Gold to ~781,000 ounces Gold (in all categories) with only minimal drilling of 20,000 metres, this begs the question; What will the next 25,000 metres will bring? It is not unreasonable to expect a doubling or tripling of the existing numbers in all categories.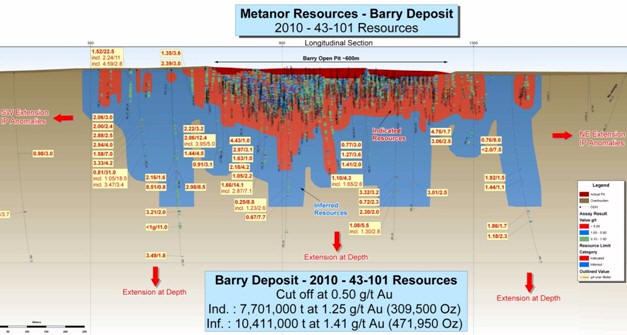 Figure 12. Barry Deposit -- Metanor has encountered quality intercepts (e.g. 9.24g/t gold over 33m, 6.12g/t over 37.8m). Figures/images depicting the Barry deposit above show numerous drill holes to ~100m, however the drill intercepts at 400m - 450m are very telling as it is important to remember that area miners such as Aur Resources (now Teck Cominco), Agnico-Eagle and Sigma are currently mining at depths of between 5,000 and 10,000 feet – the Barry deposit has the potential, like the gold grade at their Bachelor property, to increases at depth and the strike is open in directions. It is very common in this region for the grades to increase at depth and with the values Barry is intersecting near surface, it is clear the Barry open pit deposit has enormous inherent value.
Neighbors to watch:
The gold system amongst a handful of players is part of a new mining camp in the Barry-Urban township of Quebec:
Eagle Hill (now part of new Oban) TSX-V: EAG: In April 2015 Eagle Hill published the results of a Preliminary Economic Assessment ("PEA") for the Windfall Lake Project. The PEA outlines the design of a 1,200 tonne per day underground mine producing 106,200 ounces of payable gold annually for 7.8 years at an average total cash cost of $558/oz of gold (US$480/oz). At a base case gold price of US$1,200/oz the project has a pre-tax internal rate of return ("IRR") of 23.6% and a pre-tax net present value discounted at 5% ("NPV5") of $241.4 million. Initial project capital costs are estimated at $240.6 million. Eagle Hill intends to complete a pre-feasibility study for the Windfall Lake project by 2017. The current mineral resource is estimated at 2,762,000 tonnes grading 8.42 g/t gold for 748,000 ounces in the indicated category, and 3,512,000 tonnes grading 7.62 g/t gold for 860,000 ounces in the inferred category. 1 High-grade mineralization has been identified in multiple zones, yet only a small portion of the 12,400 hectare property has been tested to date. Mineralization has been identified only 30 metres from surface in some areas and as deep as 870 metres in others, with significant potential to extend mineralization along strike and at depth. Many gold deposits in this region continue well below 1,000 metres depth. Next steps at Eagle Hill include extending the existing ramp and taking a bulk sample, drilling both from surface and underground with the objective of expanding and upgrading the quality of the resource and testing continuity of grade, and finalizing the various studies required for a pre-feasibility study.
On June 9, 2015 Osisko Gold Royalties Ltd. structured a deal consolidating a five resource-rich gold exploration miners (Temex, Corona, Ryan Gold, Eagle Hill, Oban; collectively to be known as 'new Oban') into one entity that is well financed with $65 million of cash. The friendly, all-stock offer from Oban (founded by the members from Osisko) to the four entities and will see Osisko invest up to $20 million in the Company, and provide management support. The new Oban will be worth an estimated $122 million, and will own four projects holding more than six million ounces of gold resources. The new entity will host a portfolio advanced gold projects in Ontario and Quebec. The most value of the deal has been attributed to Eagle Hill Exploration Corporation (see breakdown of valuation on page 7 of the related Oban corporate presentation seen here [PDF]).
Bonterra Resources (neighbor to Eagle Hill and Metanor) TSX-V: BTR: Bonterra Resources was not part of the new Oban deal, however it will be the recipient of funds funds from new Oban; Oban will acquire, through private placement, 19.9% of the common shares of the Company at a price of $0.22 per flow-through share. This financing along with a small non-flow through private placement will capitalize Bonterra to advance Gladiator Project (formerly known as their Eastern Extension Project). To date the Inferred resource on the project sits at 273,000 Oz @ 9.23 g/t gold, plus it has high-grade visible gold (up to 220 g/Mt Gold). Significant drilling has been performed since the last resource.
Details of Metanor Resources Barry Resource
The Gold resources above 0.5 g/t for the Barry deposit were re-evaluated by SGS Geostat in compliance with NI 43-101 and are now estimated at:

309,500 oz Au of Indicated Resources (7,701,000 t at 1.25 g/t Au)
471,950 oz Au of Inferred Resources (10,411,000 t at 1.41 g/t Au)

These resources were calculated for the Main, West, 43 and 45 mineralized zones which are included in a wide north-east striking deformation corridor. This resource re-evaluation is incorporating all recent drill results performed by Metanor in 2008-2009 (245 ddh's totalling 29,075m) and allowed to extend the mineralized zones almost 1,3km in a southwest and northeast direction. The mineralized corridor is open laterally and at depth. This resource re-evaluation was performed with a 0.5 g/t Au Cut-off and using the inverse distance method. High values were cut to 35 g/t Au and a fixed density of 2.8 g/cm was used for this calculation. A major portion of the resources are at, or near surface and are considered open-pitable, thereby reducing operating costs significantly. A study also confirmed the non-acid generating nature of the host and mineralized rock at Barry (Bodycote Material Testing).
An induced polarization (IP) survey executed by Abitibi Geophysique of Val d'Or in 2009 localized strong anomalies similar to those associated the main zone approximately 1.5km to the southwest of the west extremity of the pit and approximately 2.2km to the northeast of the east extremity of the pit. Extensions of mineralized zones were intersected in diamond drill holes at a vertical depth of 450m and are still open at depth. IP anomalies also demonstrated the potential of extending gold bearing zones of the Barry deposit to a minimum distance of 8.5km and the potential of considerably increasing the resources during future diamond drilling programs.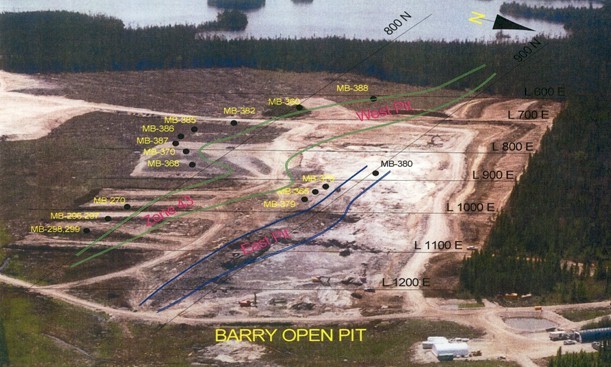 Figure 13. Barry Open Pit This image shows how the east pit meets the west pit. The Barry Deposit is growing width wise and length wise. Numerous forestry roads link Barry to the Bachelor mill (~65km distance away), facilitating material transport.
Drilling highlights from the last 20,000m drilling program at Barry:
January 13, 2010 =
January 7, 2010 =
September 24, 2009 =
June 11, 2009 =
April 14, 2009 =
April 14, 2009 =
September 18, 2008 =

3.42 g/t over 22.4 m
3.49 g/t over 45.6 m
9.24 g/t over 33.0 m
10.4 g/t over 7.65 m
48.9 g/t or 5.19 g/t (cut to 34.28 g/t) over 12.27 m
4.86 g/t over 27.0 m
6.12 g/t over 37.8 m
Note: The above numbers give an idea of how high grade the pit can be, management has resisted the temptation to cherry pick mine the best sections as that could damage future development of a world class deposit.
Figure 14. (Above) Barry Open Pit - 1 km Strike Length
Figure 15. Barry Open Pit (Above) - Further Potential

The recent resource estimate is basically calculated at 100m depth, however it is clearly open at depth, they have intercepts at 450m down, it runs more than 1km in length located in the center of a 15km long property, a Diagnos study pegs the current 1km strike at Barry as potentially 13km; Metanor has documented over 150 anomalies outside the pit on the property.

The present gold corridor (pit) is nearly 1 km long with a width of approximately 140 m and up to depths ranging from 75m to 125m. The Barry pit is still open in all directions. Future drilling will target strong anomalies to the East and West with the goal of extending the gold zone more than 5 km. Further, Metanor would drill around the present 1 km corridor (pit) and also below 125 m.

Plans for Barry project in 2015

See related June 15, 2015 news entitled "Metanor Resources Inc.: Exploration Update on the Barry Property"; Mentor announced that in the coming weeks, a drill campaign will begin in close proximity to the current pit. The results will be published once available.

------ ------ ------ ------ ------ ------ ------ ------ ------

Other noteworthy holding projects in Metanor's portfolio

Dubuisson (100% owned) and Nelligan (70% owned) Properties: Metanor also has several other properties of significance including their Dubuisson property which precipitated MTO becoming a publicly traded entity in 2003. The Dubuisson property lies within the city limits of Val-d'Or, Quebec, where 9,000 m of exploratory drilling has confirmed a measured, indicated, and inferred resource of over 450,000 ounces of NI 43-101 compliant gold. The Nelligan property, which consists of 58 claims totaling approximately 2895 ha located immediately to the west of the Bachelor property and approximately 8 kilometers southwest of the Town of Desmaraisville and has turned up significant results and new gold bearing zones of significance have been discovered. Nelligan is in close proximity to the Bachelor Lake Mill. Sheared and mineralized horizons at Nelligan similar to the Vein A at the Bachelor Mine were exposed on the Billy group and the Valley group of Nelligan property. On the Billy group, assay values of 582 g/t Au over 0.53m and 3.15 g/t Au over 3.0m were obtained from channel sampling. On the Valley group, the best assay result was obtained from a grab sample of altered mafic volcanic with minor pyrite stringers and quartz veining and returning 3.25 g/t Au. Values obtained in channel samples demonstrate continuity of gold mineralization across the shear zone with grades of 2.02 g/t Au over 2.10m and 1.47 g/t Au over 2.25m.

------ ------ ------ ------ ------ ------ ------ ------ ------