Figure 1. Subject Company's Logo
AM Gold Inc. (TSX-V: AMG)
AM Gold Inc. is a Canadian-based mineral exploration mining company listed on the TSX Venture Exchange (ticker symbol AMG) (US Listing: ACERF.PK) (Frankfurt: AMX1). The Company has come to our attention due, in part, to the exceptional opportunity afforded shareholders within AM Gold's Pinaya gold-copper deposit in Peru, and Red Mountain gold project within the Tintina Gold Belt, Yukon.

The new management team took Red Mountain from grassroots to approximately 2 million oz inferred resource in a very short time frame and with expenditures of under $3/oz for every gold oz in the inferred category. This ratio is by far the lowest we have seen in the industry where the average oz of gold discovery can range anywhere from $50-200/oz.
AM Gold now has sizeable resource estimates on two fronts with strong growth prospects, making AMG.V an undervalued and exceptional risk-reward scenario. The risk-reward characteristics are highly advantageous for investors establishing a long position in AMG.V as the current in-situ gold equivalent resource valuation is one of the most undervalued in the industry. Although the share prices themselves have not performed exceptionally, the management has as they have executed a plan to build its resource on each front. Each project offers major new discovery potential and potential resource expansion, all are located in mining favorable jurisdictions. Mining Marketwatch Journal provides insight into each of these below:
#1) Pinaya gold-copper deposit, Peru - Pinaya possesses very large bulk tonnage potential similar to Goldfields 5.6M oz gold equivalent Chucapaca only 80km away on same trend.
#2) Red Mountain within Tintina Gold Belt, Yukon Canada - In Q1 2012 AM Gold released an updated NI 43-101 resource estimate on Red Mountain of approximately 2 million oz inferred. The project is located 29km west of Victoria Gold's Dublin Gulch which hosts 6.3M oz gold, in the same geological belt as Underworld and Keno Hill.
NOTE: Remember while you are reading the copy below, that the market cap of AMG.V is currently UNDER $10 million. We have attempted to cover all salient points to help you make an informed opinion, however we also urge you to call the company too.
------ ------ ------ ------ ------ ------
1) Pinaya Gold-Copper Project, Peru - (48,000 acres / 19,200 hectares) 100% owned with no NSR
AMG.V's Pinaya property is the flagship of the Company as it is the most advanced, having had ~$20,000,000 in exploration from the past operator (160 core holes from 46,531.7 m of drilling completed between 2004 and the end of 2007) and ~$1,500,000 (~$500K on geophysics, and ~$800K on groundwork since) from AMG.V since 2008. Ironically being the flagship AMG.V has not yet had a chance to drilled the property itself as first it was waiting for drill permits, then just as it was preparing to drill the political situation in Peru required the plans to be put into abeyance until recently. It is unanimously agreed the political situation is now considered friendly and stable for mining and the project can again take center stage. The hiatus serendipitously proved advantageous in two ways as it forced AMG.V to advance its Yukon project in the interim to the point where it is now a significant asset in its own right, and secondly in the interim over the last four years a large number of major mining companies have literally surrounded AMG.V's Pinaya project with AM Gold Inc. holding key ground -- IT APPEARS LIKELY ONLY A MATTER OF TIME BEFORE A MAJOR TAKES INTEREST IN THIS PROPERTY.
Background
The Pinaya project was acquired by predecessor in 2004 for ~$4M cash CAD and $1.83m in shares/cash equivalent. The Pinaya property was identified, acquired (purchased from the local community for over the course of 3 years), and expanded based on an old gold pit area that was being mined by dozens of artisanal miners that were making a living off the gold outcropping on the surface. The previous operators concentrated on one specific area of the Pinaya property to build a resource without taking much of a risk of stepping out to discover the potential of the property. When AM Gold Inc. stepped in it corrected any defaults that existed from the previous operators. The data was intact so AMG.V rechecked the core and upgraded the resource, there was 90 holes that were brought into an updated resource. From the geophysics that AMG.V has completed on the property all indications are the property holds immense world-class potential.
The Pinaya Deposit
There are two zone types at Pinaya; a Western Porphyry and a Gold Oxide Skarn Zone. The 3D geological model, seen to the left, portrays the deposit at AM Gold's Pinaya gold-copper project. One satellite drill hole was drilled in the last round of drilling and intercepted values to depth.
Figure 2. (Seen to the left) 3D View of AMG.V Pinaya Geomodel Click to enlarge This model image is of the old resource and provides a good visualization of the deposit.
The current resource at Pinaya sits just shy of 1 million ounces Gold + 610 million pounds Copper
The in situ contained metal across all categories adds up to 969,000 ounces of gold and 610M pounds of copper averaging ~.5g/t gold and ~.4% copper. If you look at gold equivalent you are looking about 1.2 grams gold equivalent/tonne (not taking into account metallurgy) or ~.8% copper - this would be considered a high grade porphyry at today's gold prices.
The new resource was based on 151 holes (out of 160 drilled on the property).
Location & Infrastructure
The Pinaya Gold-Copper Project is located approximately 775 kilometers southeast of Lima, the capital of Peru, and 110 kilometers north-northeast of Arequipa, the second largest city in Peru. The property area is comprised of mineral concessions totalling over 19,200 hectares.
Excellent infrastructure: Access to the property is excellent, proceeding northeastwardly from the city of Arequipa, via paved Peruvian Highway Number 30B, for 142 kilometers to the Tintaya Copper Mine access road, and then northward on a well-maintained gravel road to the small community of Occopaica. At Occopaica, a gravel access road leads 7 kilometers eastwardly to the property. Arequipa international airport has daily flights to and from Lima. A nearby airstrip capable of accepting small jets is located at the Tintaya mine approximately 100 kilometres north of Pinaya.
Figure 4. AMG.V main core shed, kitchen, living, health complex at Pinaya AM Gold possesses quality infrastructure at Pinaya including a core shed facility, a camp, and kitchen facility for operation of the project. Access would be considered exceptional, water is on the property, power is a very short distance to the west (~12km) and paved highway 7 km distance.
Figure 5. Camp and core storage (above) - The onsite facilities will reduce costs when it comes to drilling. AMG.V still has 46,000 m of core, every piece of core drilled on the property is sitting in the racks in containers seen in the inset image on the bottom right.
100% Ownership: 100% owned by AM Gold's subsidiary with no underlying NSR, AM Gold's 100% owned operating company in Peru.
Stable, Mining-Friendly Jurisdiction - Peru is clearly signaling it is open for business.
Peru is unanimously agreed in the mining community to be a stable, mining friendly region. Ranking within the Fraser Institute's Annual Survey of Mining Companies released Q1 2012 may be viewed here. The mining claim and permitting process in Peru is highly transparent and clearly laid out. At the tail end of September 2011, Peru passed three new mining laws. The new mining law provides clarity for mining companies, it modifies some mineral royalties and establishes a new legal framework for the industry. The end result is that Peru is now considered stable and mining-friendly, there is no uncertainty, and the level of interest from majors regarding junior resource deposits/projects of significance in Peru now is high. The new royalty is not prejudicial towards juniors and affects mostly the large established producers that had sweetheart deals that kept their royalty payments low (were essentially paying nothing).
Area Discoveries (Southern Peru)
Pinaya is on a belt that is ~250 km with a lot of majors on it and producing mines.
Figure 6. Location Map (above) Goldfields-Buenaventura's 5.6M oz 1.9 g/t Gold equivalent Chucapaca discovery is located ~80km south south-east of AM Gold's Pinaya deposit, it is a very similar deposit with copper and gold, similar in altitude as they are at 4800 metres and Pinaya is at 4,200 – 4,400m on the same trend, on the same mountain range, in the same district. Chucapaca is still open in several directions and could continue to grow. This discovery has sparked a number of majors to look for a similar discovery and with AMG.V holding a large highly prospective land package at Pinaya makes an attractive prospect for a major suitor. At ~19,200 hectares AM Gold's Pinaya is an extremely large land package; to date AM Gold has only explored less ~1% of Pinaya. It is literally impossible to assemble a land package this size in this highly prospective district.
Hopefully this gives you an idea as to what AMG.V's Pinaya project should be valued at: In the image above note Antares' Haquira Project to the North of Pinaya, it was purchased by First Quantum Minerals for $460 million when Antares' project was around 700M tonnes of rock at ~0.40% copper with low gold credit. Now compare that to AMG.V's Pinaya -- Pinaya has credits ~twice what they have, Antares' tonnage is ~8 times what AMG.V has currently and they were bought for $460M. Confidence is high that if the resource is tripled at Pinaya a major or mid-tier producer would be keen on AMG.V at much higher multiples. It is Mining MarketWatch Journal's opinion that there is a high likelihood that a significant partner could materialize.
Volcanic Belt
AMG.V holds key ground and is surrounded by majors.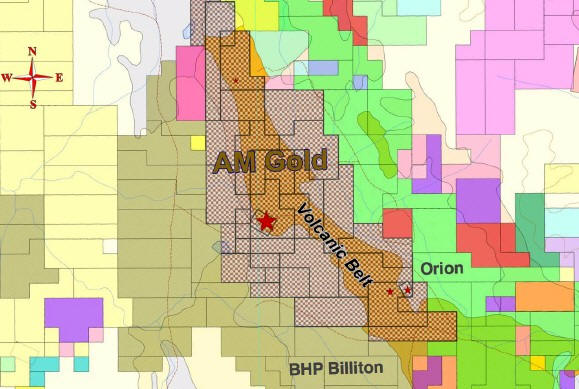 Figure 7. Volcanic Belt Claim Map (above) - AMG.V's Pinaya has the key ground on the volcanic belt. BHP moved in in 2008-2009, Orion is an affiliate of Goldfields and Buenaventura. Newmont and a few others are in this area too. The Volcanic belt trends right through AMG.V's Pinaya property. AMG.V's predecessor was the first one in here in 2004. Throughout that 32 km trend the volcanics pop out from the cap of the ground around it, the resource area is where the red star is and is one of the areas it pops though.
Pinaya property has multiple targets and anomalies
AMG.V has seven of the world's largest mining companies that have taken positions around them in the last 4 years.
Figure 8. Pinaya Property Multiple Targets and Anomalies (above) - The resource area is within that small yellow box. That yellow box represents ~1% of the surface area that AMG.V holds (~200 ha of the 19,200 ha). The red box is AMG.V's area of focus, the Company has identified numerous targets on this 32km trend on the NW SE structure. To the west of Pinaya (in the yellow shaded area) is BHP Billiton (the biggest mining company in the world). To the south there is a little green shaded area of ~1500 ha that belongs to IAM Gold. The purplish magenta shaded area on the NE side of Pinaya is the Goldfields/Buenaventura affiliate Orion exploration. In the blue shaded area is Newmont Mining (the largest gold mining company in the world). To the NE seen in brown is Teck Cominco. To the north at the top of the map there is about a ~2 km parcel that is owned by Vale (largest publicly traded nickel producer in the world).
2012 Area of Interest
Below is a zoom-in of the image above.
Figure 9. 2012 Area of Interest (above) - Above is a detailed look at the resource zone in Pinaya Peru with 7 channel ASTER (Advanced Spaceborne Thermal Emission and Reflection) -derived iron oxide anomaly regions, indicative of drilled mineralized areas/occurrences. The image shows potential mineralization at surface with drilling superimposed. The potential mineralized areas can clearly be seen and when it is merged with the 46,531.7 m of drilling performed to date one can see that there is a correlation between what is seen at surface and what has been drilled. The two established resource zones are seen within the yellow box, and seen to the NW just outside the yellow box is a sizeable target zone waiting to be drilled. The VTEM geophysics indicate the three zones are connected at depth. Although the resource area may show 1300 m of strike, at depth the VTEM shows the true target of the area is actually 3 km by 4 km -- this is why majors are interested in this area as this could be a sleeping giant.
A significant zone called 'Cobre de Oro' located ~2 km from the resource area - 'The mountain of copper and gold'
Figure 10. Geochem overlay map showing Cobre de Oro relative to resource area (above) - AMG.V's VTEM geophysics show that the Cobre de Oro zone is potentially connected to the rest at depth too. What you are looking at here is geochem map over a ~4km area, seen in orange is the surface material that grades 0.5 - 1+ g/t gold at surface -- geologists get excited when they see broad areas with 100 PPB (1/10th of a gram) gold at surface, many of these areas are 5X - 10X those grades at surface across broad areas. The blue is where there is a cap and the volcanics are not accessible at surface, however the geophysics demonstrate that the whole area is potentially connected at depth and a much larger target than what is seen at surface. The previous operator only took one step out chance, this image shows it, they stepped out 2.2 km from the resource area to the north. The locals call it 'Montaña de Cobre de Oro' Cobre is copper, Oro is gold -- it's been referred to for hundreds of years as 'the mountain of copper and gold'. Gold has been high-graded out of this area historically by the locals so the past operator decided to drill there. Normally when you drill from a pad you drill in four different directions, as you can see they drilled five holes all in the same direction, the past operator likely did not understand it was an epithermal system (if you drill a hole transverse to where the veins are running you might drill through four different veins, but if you drill parallel and you end up drilling between some of the veins you will get zero). They got lucky on a couple of drill holes of their five holes and hit mineralization; PDH41 they hit 17 m of 1.72 g/t gold and PDH43 8.5m of 5.45 g/t gold. Unfortunately at the time silver, copper, lead and zinc mineralization in this area that is understood to be there it is there, in gold equivalents this area appears to be running up to 10 g/t gold equivalent. AMG.V has compiled trenching and geochem data in this area and can see there is probably a number of parallel structures ~ 5 - 10 m wide running 5 - 10 grams gold equivalent/t so AMG.V potentially could very quickly delineate a fairly large resource at much higher grade than it has in the lower zones.
Pinaya assay results and notable intercepts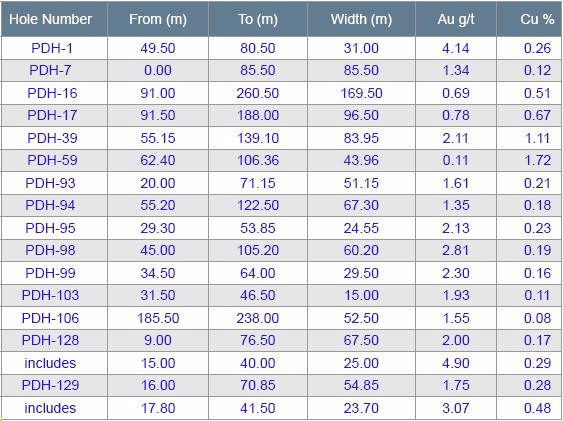 Figure 11. Select drill core results (above) - Some of these are significant holes and AMG.V believes the areas it has lined up to drill going forward will rival them. When looking at the results above you will note some areas have lower gold and higher % copper, that is the difference between the two zones; the Gold Skarn Zone is predominantly gold with little copper and the Western Porphyry Zone is predominantly copper with a lower gold credit. You can generally tell by looking at the grade of the gold and the copper what area the holes are from. There is no doubt that if AMG.V did not have this ground it tied up it would definitely be being explored by a major right now.
Figure 12. Map of Gold Skarn Zone & Western Porphyry:
Click to enlarge
Soil Geochemistry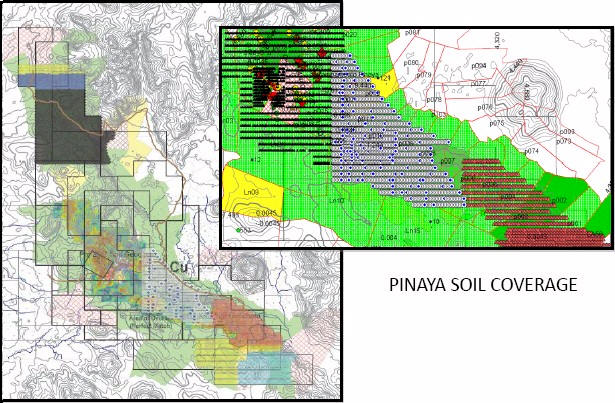 Figure 13. Soil geochem map (above) - The map shows where all the sampling has been done, the resource area is on the far left. AMG.V has from this delineated four main targets. Since the property is so large AMG.V chose to focus the geochem on the southern half of the property. AMG.V took ~6000 samples from the southern half of the property - the line spacings are outlined in the image, about half were analysed with and XRF portable unit and 700 of those keys samples were sent in for assays. AMG.V encountered a lot of copper gold and silver mineralization throughout the property.
Pinaya EM Southern Property - Primary Targets
Figure 14. Pinaya EM Southern Property -Primary Targets (above) - The resource are is on the left, it is open to the north, open to the south, and open at depth, with the actual target area being much larger. There are two additional gold-copper-silver porphyries to the SE which have never been drilled. To the very far south of the property AMG.V have a porphyry as well as a potential for a high grade skarn zone; AMG.V found an old adit, probably 400 - 500 years old (back then they only high-graded 3-5% copper as they did not have the ability to smelter material).
Regional Geology
Regionally, Pinaya is located within the southeastern end of the emerging Andahuaylas-Yauri metallogenic belt which hosts the Tintaya Mine (Xstrata PLC), the Las Chancas deposit (Southern Peru Copper Corporation), the Las Bambas deposit (Xstrata PLC), as well as numerous other copper-gold-molybdenum porphyry and skarn occurrences. The Tintaya Mine, one of the largest copper producers in Peru, and situated 100 km north of the Pinaya Project, was purchased by Xstrata from BHP Billiton for US$750 million a few years ago.

Most of the stratigraphy, structure, magmatism, volcanism and mineralization in Peru is spatially- and genetically-related to the tectonic evolution of the Andean Cordillera which is situated along a major convergent subduction zone where the oceanic crust, the Nazca Plate, slips beneath the overriding South American continental plate. The Andean Cordillera has a metamorphic rock basement of Proterozoic age on which Hercynian Paleozoic sedimentary rocks accumulated and were in turn deformed by plutonism and volcanism to Upper Paleozoic time. Beginning in the Late Triassic time, following Atlantic Ocean rifting, two periods of subduction along the western margins of South America have resulted in the formation of the present Andes; the Mariana-type subduction from the Late Triassic to Late Cretaceous and Andean-style subduction from the Late Cretaceous to the present.

Peru can be divided into physiographic regions which correspond to tectonic elements of the Andean Cordillera. In southern Peru there are, from west to east, the Coastal Belt, Western Cordillera, Altiplano, Eastern Cordillera, and sub-Andean zones. Heterogeneous Precambrian basement lithologies, underlying the Coastal Belt and comprising part of the Western Cordillera in southern Peru, are called the 'Arequipa Massif'. The northern extent of the Precambrian basement corresponds to the termination of the Altiplano and the start of the Nazca Ridge. There is an intervening northeasterly trending tectonic element, called the 'Arica' deflection or 'Bolivian Orocline', that is underlain by basement lithologies where the Andes widen and bend easterly.

Late Triassic to Late Cretaceous Mariana-type subduction resulted in an environment of extension and crustal attenuation producing an oceanic trench, island arcs, and back arc basin from west to east. The back arc basin reportedly has two basinal components, the Western Basin and Eastern Basin, which are separated by the Cusco – Puno high, probably part of the Maranon Arch. The basins are largely comprised of marine clastic and minor carbonate lithologies of the Yura and Mara Groups overlain by carbonates of the Ferrobamba Formation. The western back-arc basin, called the 'Arequipa Basin', is the present Western Andean Cordillera of Peru; the site of a Holocene magmatic belt that spans the Andes and was emplaced from Late Oligocene to 25 Ma.

The Western Andean Cordillera is famous for its world-class base- and precious-metal deposits; many of which have been intermittently mined since Incan time. Most of the metal deposits in Peru are spatially and genetically associated with metal-rich hydrothermal fluids generated along magmatic belts that were emplaced along convergent plate tectonic lineaments. Furthermore, many of these primary base-metal deposits have undergone significant secondary enrichment over the last 30 Ma as a result of periodic continental uplift and leaching followed by volcanic cover preservation.

Radiometric studies have correlated the igneous host rocks and attendant hydrothermal alteration for some of the largest and richest porphyry copper deposits in the world along the Western Andean Cordillera from 6 degrees to 32 degrees south, including the Chalcobamba – Tintaya iron-gold-copper skarn and porphyry belt (30-35 Ma) in the main magmatic arc, southward through the Santa Lucia district (25-30 Ma) and into Chile. The Andahuaylas-Yauri Porphyry Copper Belt, a well known 300-kilometre long porphyry copper belt related to middle Eocene to early Oligocene calc-alkaline plutonism, is situated along the northeastern edge of the Western Andean Cordillera. The Pinaya property is situated near the south-southeastern end of this belt.
| | |
| --- | --- |
| Figure 16. Hand dug workings at Pinaya | Figure 17. Drill Core Warehouse at Pinaya |
Plans for 2012 at Pinaya - Targets with big payoff potential have already been identified AMG.V
AMG.V has been waiting for two years to drill and in the interim delineated some exceptional targets. The established resource is good (open in two directions), however AMG.V believes an even bigger prize (main system) lies elsewhere; AMG.v has an additional 19 targets of which four have been delineated as primary targets aside from the resource area. AMG.V believes that there are some bigger targets than the existing resource area on the property and has already done target identification and evaluation. Shares of AMG.V could be in store for a major bump if the company is capitalized well enough to accomplish its goals -- then again there is also a strong possibility a major materializes or expresses interest in AMG.V.
See related May 10, 2012 news release entitled "AM Gold: Pinaya ZTEM Geophysical Survey Delineates 19 New Targets and Suggests Significant Lateral and Depth Expansion Potential of Current Resource Zones".
------ ------ ------ ------ ------ ------
2) Red Mountain gold project, within Tintina Gold Belt, Yukon Canada - (3,600 ha), 0.5% NSR
80% interest with option to earn 100% ownership (to earn the remaining 20% AMG.V only has left to pay a nominal $75,000 and issue 625,000 shares).
• Quality Gold intercepts and growing ounces
• 1,947,000 Troy Ounces Inferred Gold Resource Estimate
• The resource is open in all direction and at depth
AM Gold's Red Mountain possesses very large resource growth potential with possibility to rival Kinross's Fort Knox mine
The geophysical interpretation is that there is a very large intrusive which is just peeking through the top of Red Mountain and comprises the centre of the mountain. The potential is that the whole mountain is prospective and AMG, although already at 1,947,000 oz Gold Resource inferred gold resource estimate, is just starting to drill into it.
Figure 18. Topography view 3D model (above) - Arrows in the image above extend to reference specific points to give the viewer a correlation to the topography and show the size and the scope of the potential. The ridge in the distance is ~2.5 km from the resource. If you at the north end of the 3D model you can see a sort of a green patch; that is the quartz-monzonite intrusive material of the Tombstone Porphyry that is sticking out at surface. The quartz-monzonite is the higher grade (.7+ g/t) material, sediments found on the mountain are running .3 - .5 g/t gold which generally brings the overall grade down but it is certainly not waste rock.

The current resource at Red Mountain
On March 8, 2012 AMG.V provided an updated resource estimate. See related release entitled "AM Gold Inferred Resource Estimate at Red Mountain Significantly Increased and Remains Open in All Directions and at Depth". The resource now sits at 127 million tonnes @ 0.48 g/t inferred resource = 1.95 million oz Au using 0.30 g/t cut-off. This was accomplished with a small amount of drilling, ~16,572m.
Steady economical progress
AMG.V has made steady progress at Red Mountain since beginning from grassroots. It has been adding an ounce of gold with approximately every $2.50 cents spent on the ground as a result of the consistency of the mineralization and long intercepts that have allowed it to add a lot of ounces very quickly with this type of porphyry system. Essentially, AMG.V has spent $5.5M and it now has an inferred resource of ~2M oz gold -- an admirable accomplishment.
Location & Infrastructure
The Red Mountain project is located within the world famous Tintina Gold Belt, long known for significant Gold deposits. The property has summer road access (which is something most projects in the Yukon don't have), it is ~7km from a paved highway, and 48 kilometers East of the Klondike Highway. Power wise it is ~50 kilometers from the Mayo-Hydro Dam (nearby Victoria Gold has moved to feasibility on ~1.8M oz of gold resource and will be building a large facility, bringing power ~25 km closer), it is 1 Kilometer from water, and located ~2km from a private airstrip.
Figure 19. Neighboring Yukon Gold Discoveries
Stable, Mining-Friendly Jurisdiction
The Fraser Institute ranks the Yukon as one of the top 10 in the world (Q1 2012 ranking may be viewed here), drill permits are issued quickly, and there are no First Nations land claim issues.
Inferred Resource Model Red Mountain, Yukon
Figure 20. Topography Map (above) - From an open pit scenario there is absolutely no strip ratio; there is no waste material to strip. The deposit is open in all directions. The majority of AMG.V's holes ended in mineralization and thus are still open at depth. The inset table demonstrates the different cut-off options; AM Gold has chosen to use a porphyry cut-off of 0.3 g/t gold which results in ~1/2 a gram of gold per tonne. In reviewing the above table notice that the deposit is consistent as material is excluded at different cut-offs. Just because the average grade is ~1/2 g/t does not mean there is no high grade, there are assays that run up to an ounce of gold per tonne but all material averages in the bulk to ~1.2 g/t.
Metallurgy
AMG.V has demonstrated metallurgy is positive. See related February 28, 2012 release entitled "AM Gold Reports Preliminary Metallurgical Results From Red Mountain".
Significant assay results from Red Mountain
Figure 21. Drill Intercepts (above) - A couple of the key holes here were the first ones drilled in the season the previous year; i.e. 526 m of .75 g/t gold within that 101.4 m of 1.41 g/t gold -- that demonstrates AMG.V has starter material, readily accessible higher-grade zones can provide quick payback in the first few years of production.
AMG.V has employed a methodical process in building a resource of significance. Initially it stepped into Red Mountain as a grass-roots property with no resource, configured some of the holes and ended up with ~half-million resource. Then in 2010 it drilled and came out with a resource of 1.23 m ounce resource of 0.56 g/t. Mid 2011 it succeeded at depth and showed quality mineralization at 500+ m from surface (there is a considerable amount of mineralized material that it still has not brought into the resource that it knows is there below the existing resource -- the next phase of drilling will potentially allow it to be projected further down). It also expanded the Jethro Zone to the East, West and to the South, the fruit of that was an expanded 1,947,000 oz gold resource.
Interpretation with aeromagnetic backdrop
Figure 22. Alteration Zones (above) - The orange area is the area covers in the current 1,947,000 oz gold resource, the green area is the resource from last year. The lines are the histograms of the different kinds of rock with grades printed on the histogram, click here to expand in PDF detail.
Extension Drilling - consistent mineralization from top to bottom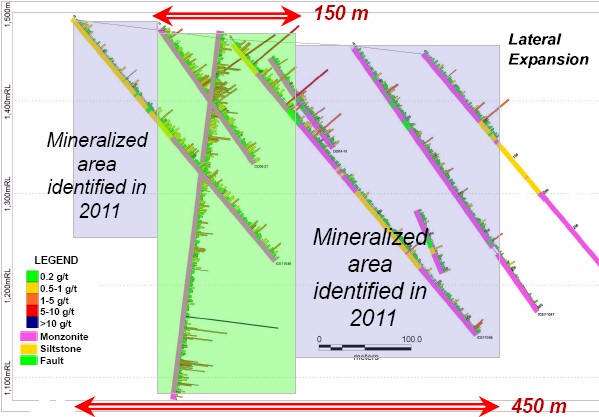 Figure 23. Expansion drilling in 2011 - West (above) - The image shows the previous resource was 150m wide and projected for 300 m deep. Now it is projected in some areas as high as 450 m - 500 m wide and projected to 300 m deep. The important thing to note here is the histogram, the little bars on there with different colors, that represents 1.5m increments and one can see from the legend on the left that demonstrates the grade of those intercepts -- one thing you will note from here is that it is very consistent top to bottom; its half a gram gold to 1 gram material, there is NO smearing (spreading a hot spot over a large area as Mining MarketWatch Journal notices some companies try to do to pop their stock). AMG.V has a fairly consistent mineralized material from top to bottom and the mineralization continues for 250 m below that but it is not charted on this diagram and not in the resource.
Figure 24. Expansion drilling -East (above)
Figure 24. Property Geology & Alteration (above) - This is the thrust of AMG.V's target. Seen above is an area 3km by 3 km and up to 1.5 km in depth; AMG.V has only explored 3% - 5% of the potential of the this target. Mining MarketWatch Journal believes the achievable resource area is significantly much larger and that there is the opportunity for high grade epithermal systems as well.
Geophysics Magnetics – Primary Targets Identified
Figure 25. Geophysics and Magnetics (above) - The mag-low is seen in the blue, the mag-high is the magenta-color -- AMG.V's focus has been the mag-low. The resource area is outlined in white and within that you can see dots, those dots are drill holes. There are a fair number of holes on the western edge, that area is running 0.8 to 1 gram per tonne and coincides with the mag-low in blue.
The new target area to the north is particularly intriguing
In 2011 AMG.V intended to drill the new north target area (coinciding with the mag-low) however due to weather conditions it only managed a couple of holes (encountering ~50 m of 1/2 a gram at the bottom of one of the holes) discovering a new zone that was not included in the resource. To the west of that it is completely open for ~2km and that target area is running around 1 gram per tonne sample-wise.
Geology - Primary Expansion Target Zones - The potential to expand this resource is quite significant.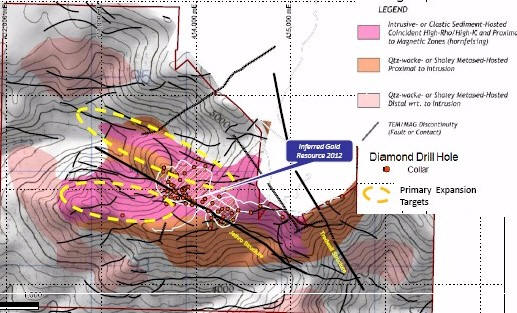 Figure 25. Showing the rock type (above) -The correlation is positive between the geophysics and the mapping of the rock is that the quarts-monzonite which is the host rock (seen in pink above) to the NW and to the SW, thus the potential to expand this resource is quite significant.
AM Gold's Red Mountain possesses very large resource growth potential with possibility to rival Kinross's Fort Knox mine -- See target area size in the two images below relative to the resource area (identified as the oblong pink circle); the published resource constitutes a very small percentage of that target area....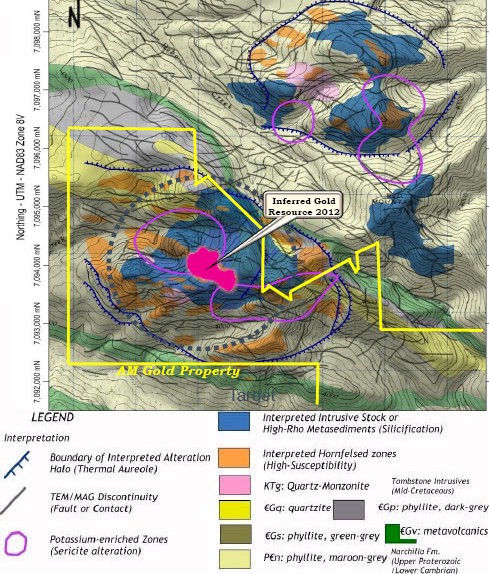 Figure 26. Interpretation Map (above); Building ounces within the intrusive target of the Tombstone Monzonite
Figure 27. Red Mountain IP Target (Above)
The target area is defined by geology and geophysics -- shown in the figures above is a very large target area basically designating intrusive, the altered intrusive, and the published resource area to date. Depth-wise so far AMG.V has drilled about 1/3 of the way into the mag-low above (that would be where it encountered 526 m of .75 g/t and still ended in mineralization). The striking thing about the target area is that the published resource constitutes a very small percentage of that target area. So even being generous saying its 5% of the target area we get 20 times the area that needs to be explored yet -- if AM Gold continues to hit this is going to be enormous.
Plans for Red Mountain
The ultimate near-term goal for AM Gold Inc. on Red Mountain is to establish a 3M ounces resource and then it will be time to do a scoping study.
Red Mountain 2012 plans - Stepping out and hitting high grade areas
AMG.V flew a geophysics VTEM in October and will be completing the interpretation. AMG.V will complete geochem (ground work and sampling), ID ground targets at surface with the highest readings in conjunction with geophysics. The focus will be to take all the data compiled and hit the high grade areas.
------ ------ ------ ------ ------ ------
---
AM Gold's Management & Technical Leadership: Skip to top
The current board of directors has a well rounded combination of people that each contribute expertise in disciplines necessary for a successful mining entity:
Mr. John Fiorino, CEO and Director
Mr. Fiorino currently sits on the board of several private companies and is currently the President/CEO of Infinite Merchant Solutions Inc. As a financier, businessman, investor and consultant with over 15 years experience in assisting private and public companies with corporate operations, capital development, financing and strategic advisory services, he has concluded mining transactions involving gold and other commodities in North and South America.
Dr. Stewart Jackson, P.Geol., Director
Dr. Jackson is an accomplished mining professional with 49 years of experience in the exploration and development of mineral deposits and in the management of public companies. He has been involved in multiple mineral discoveries and evaluations.

Most recently Dr. Jackson has been involved in the acquisition and delineation of one of the most significant discoveries of modern mining history; a major uranium, molybdenum, nickel and vanadium resource in Sweden on properties held by Continental Precious Minerals Inc. These properties contain a significant uranium resource exceeding 1.1 billion pounds of uranium oxide (U3O8), 17 billion pounds of vanadium (V2O5), 1.5 billion pounds of molybdenum (Mo) and 2.3 billion pounds of nickel (Ni), with drilling continuing to expand the resource.

Prior to that he was instrumental in the advancement of the Turnagain nickel sulphide deposit of northern British Columbia, Canada, held by Hard Creek Nickel Corporation, from a prospect to the billion tonne resource category.

While involved with his initial public company, Crown Resource Corporation in the 1980's, multiple discoveries of gold were made in Washington State, USA; totalling to date in the order of 4.5 million ounces; continuing to be produced by Kinross Gold Corporation.

In the 1970's he recognized the potential of the enormous Red Dog zinc-lead deposits in western Alaska, and was instrumental in their exploration and development by Cominco American Incorporated (now Teck-Cominco). Red Dog today produces over 6% of the world production of zinc from this long-lived zinc resource field.

Subsequently, he was Exploration Manager for Houston Oil and Minerals Corporation during the discovery and development of the Manhattan, South McCoy and Borealis gold deposits of Nevada, USA.

Dr. Jackson has authored and co-authored a number of scientific publications, is a member of several scientific and professional organizations, and holds a Professional Geologist (P. Geol.) Registration in the Province of Alberta, Canada. He holds a Bachelor of Science degree in Geology from the University of Western Ontario, a Master of Science degree in Stratigraphy and Mineral Deposits from the University of Toronto, and a Ph.D in Stratigraphy and Economic Geology from the University of Alberta.
Mr. Neil Downey, P. Geo., BSc. Geo, Vice President of Exploration
Mr. Downey is an exploration geologist with over 30 years of mineral exploration experience in gold, uranium and base metals. He has planned and implemented multi-faceted exploration programs from the grass roots level to resource definition resulting in producing mines. Throughout his extensive career Mr. Downey was part of the team at Camflo Mines Ltd. (acquired by Barrick Resources in 1984) whose primary project was located near Val D'Or, Quebec whose acquisition was a turning point for Barrick. Neil was also part of the Barrick team that took the Holt-McDermott mine north of Kirkland Lake, Ontario from a remotely located showing, right through to production. Mr . Downey then went on to work for Gulf Minerals for over 20 years and has worked in every Province and Territory within Canada over the course of his 30+ years in the exploration industry. Mr. Downey is a graduate of the University of New Brunswick with BSc. Honours, Geology.
Mr. Dennis B Goldstein, Director
Mr. Dennis B. Goldstein is a practicing natural resources lawyer in San Francisco, California with 37 years' experience in the mining business, including 26 years with Homestake Mining Company, a New York Stock Exchange listed, international gold mining company. When Homestake was purchased by Barrick Gold Corporation in 2001 for $3.34 billion CDN, he was Vice-President and Corporate Counsel. Mr. Goldstein is the Lead Director of FX Energy Inc., an oil and gas exploration and production company active in Poland. He has served on FX Energy Inc.'s Board of Directors since 1999. In addition to Lead Director, he currently is chairman of FX Energy Inc.'s Nomination and Governance Committee and member of its Audit and Compensation Committees. Mr. Goldstein is a graduate of Brown University, Stanford University Law School, and Executive Program of the Stanford Graduate School of Business. He is a member of the California and the American Bar Associations and speaks Spanish and Italian.
Dr. Kelly Hyslop, Director
Dr. Hyslop is retired after 25 years as a Physician and Clinical Professor in the Department of Medicine at UBC. Dr Hyslop is and has been involved in multiple companies, generally aiding the companies in raising capital in Europe and offering his experience in corporate governance as a member of the Board of Directors.
Mr. Mark Lawson, MBA, CFO and Director
Mr. Lawson is currently the President & CEO, Director of New Global Ventures International Ltd., a company listed on the TSX Venture Exchange. He is also a director of Bradenburg Metals Corp., Toro Resources Corp., Hunter Bay Minerals PLC, and EcoloCap Solutions Inc. Mr. Lawson worked as an investment banker with Morgan Stanley in New York from 2005 until 2008 where he was involved in the execution of over $6-billion worth of mergers and acquisitions, $8-billion worth of debt offerings, and $500-million of equity financings. Mr. Lawson was previously a director of a boutique corporate finance firm in Toronto, Canada. He received his bachelor of arts in statistical sciences from the University of Western Ontario and his MBA from The Richard Ivey School of Business, Univeristy of Western Ontario. Mr. Lawson was also a 1st round draft pick of the CFL Edmonton Eskimos. ##
---
Note: This list is not intended to be a complete overview of AM Gold Inc. or a complete listing of AM Gold's projects. Mining MarketWatch urges the reader to contact the subject company and has identified the following sources for information:
For more information contact AM Gold's head office at: Ph
1.877.646.0067

Company's web site: www.amgold.ca SEDAR Filings: URL